A LOT HAS CHANGED IN OVER 100 YEARS.
OUR BOOTS AREN'T ONE OF THEM.
Quality that lasts
In the early 1900's Drew's started as a mens work and outdoor clothing store. Mr. Drew used to take his goods to the fire camps and commissary surrounding the Klamath Basin in Oregon and Northern California. After experiencing success going onsite, Mr. Drew expanded his selection of work clothing and then added footwear. By the mid 1950's, Drew's was well known around Klamath Falls and beyond as the place for quality foot-wear and clothing.
Handmade Leather Boots
Why should you invest in handmade, all-leather boots? Leather is better! All leather boots with solid leather arches, shanks, and insoles are much better for your feet. Many machine-made boots are made with paper or cardboard insoles and use rigid steel shanks that can rust and deteriorate the inside of the boots and provide little or no arch support. All of the handmade boots at Drew's are, of course, all leather and designed to benefit your feet.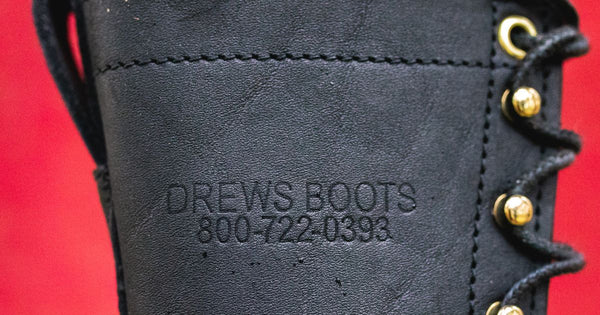 In the rugged, demanding world of outdoor and heavy-duty work, the right footwear can make all the difference between a successful, productive day and an uncomfortable, injury prone one. Whether you're a seasoned lumberjack, a construction worker, or an adventurous hiker, you know that your feet are your foundation, and...
---
Location
2642 Roosevelt Blvd.
Eugene, OR 97402
Phone: 1-800-722-0393
Email: orders@drewsboots.com
Contact Us