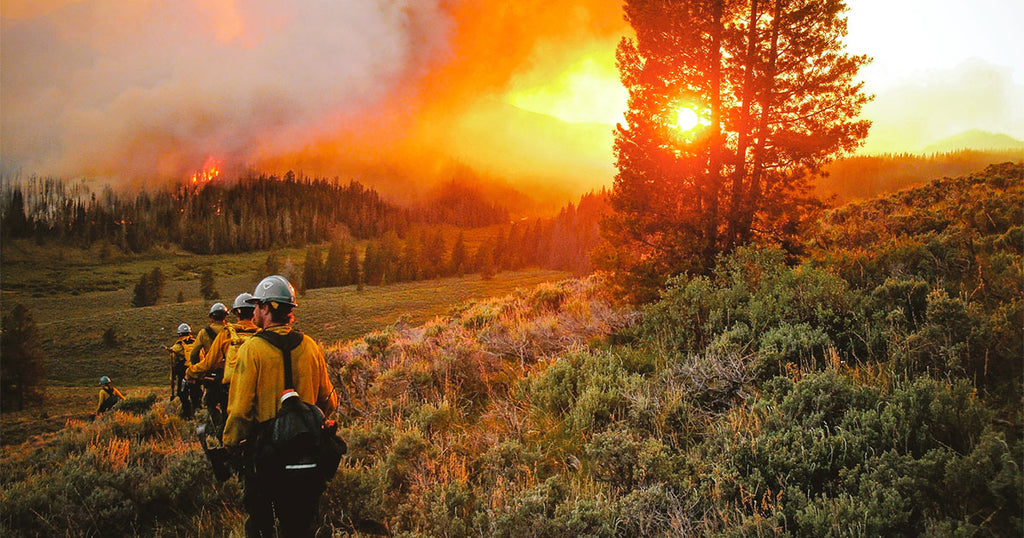 Wildland firefighters accomplish their heroic feats through hard work, training, and bravery. To withstand the harsh conditions and rugged terrain, wildland firefighters need quality and durable firefighting gear to help them extinguish fires, remain protected, and reduce the risk of injury.
Our wildfire firefighter gear guide covers the wildland firefighting equipment and supplies needed on the fire line to stay safe. Explore which items you need for full-body protection, how to gear up properly, and the importance of cleaning and maintaining PPE.
Wildland Fire Fighting Gear Checklist
Wildland firefighters must physically exert themselves beyond their limits all while being equipped with comfortable and versatile personal protective equipment (PPE) to protect themselves from the danger of fighting fires. PPE should be worn correctly and maintained to enhance its longevity and durability.
NFPA Standard 1977: Standard on Protective Clothing and Equipment for Wildland Fire Fighting establishes requirements for PPE and clothing to protect against wildland fire hazards such as heat stress, burns, cuts, falling objects, and much more.
All firefighters need protective gear and tools that meet the following specifications:
Protects the head and body
Protects the respiratory system
Able to be used in different environments
Comfortable enough to be worn for extended periods of time
Lightweight while meeting all safety standards.
Here is a handy checklist of wildland firefighting gear all firefighters need:
Helmet/hard hat
Goggles
Shroud and mask
Hearing protection (earplugs/earmuffs)
Fire shirt
Gloves
Fire pants
Merino wool socks
Heavy leather boots
Protective undergarments
Fire shelter and pack with all your supplies
Boots
Wildland firefighting boots are a critical piece of protective equipment against different terrain. While extinguishing wildfires, firefighters must make long treks through very rugged terrain while dealing with the harsh elements.
The right wildland firefighting boots can provide the proper level of comfort while preventing injury after hours on your feet. Drew's Boots offers a wide selection of premium wildland and mountain boots to protect your feet and keep you comfortable on the job.
What are the critical elements of a pair of wildland firefighting boots?
Must be made of leather, not composition rubber or plastic, which can melt quickly
Laces should be made of leather or rawhide
Boots must be at least eight inches tall
Stitching should be waxed linen thread, not a synthetic material, which can melt easily
Must have skid-resistant soles
Must be cut-resistant if you will be using a chainsaw
For your safety, avoid wearing boots with steel toes, protection plates, or puncture-proof soles since these can retain heat and increase your risk of getting burned.
Above all, you should ensure that your boots are broken in before going out on the fire line. Wearing unbroken wildland firefighting boots can cause discomfort and lead to painful blisters. For superior comfort and protection, wear two pairs of socks, an inner pair of lightweight cotton and an outer pair of Merino wool socks.
To maintain your boots' high performance, keep your boots clean and apply boot grease if needed to soften the leather.
Men's wildland fire boots:
Women's wildland fire boots:
Gloves
Having the proper protection for your hands not only helps you maintain mobility and dexterity to get the job done but also protects your hands from many of the wildfire dangers. Hands are used to operate equipment, perform fire suppression tactics, and remove vegetation as you work through the unforgiving environment.
Wildland firefighters may have to handle sharp or extremely hot objects when battling fires. Protective gloves protect your hands from burns, cuts, and other injuries.
What makes a protective pair of gloves?
Must have long, fire-resistant cuffs to protect your wrists
May require a glove holder or utility clip
Must be made of full-grain leather for durability
Protective gloves should be worn at all times, except when you are feeling for hot spots or when "mopping up."
Hearing Protection
Wildland firefighters face punishing environments that can be very loud due to noise from the equipment or the blazing fire. Over time, exposure to loud noises can damage your eardrums. While you may feel fine without them, hearing loss develops gradually. By the time you notice, you may have already experienced a significant percentage of hearing loss.
To protect your hearing, use ear plugs. You can choose different options made from foam, rubber, or a moldable material.
Helmets
Head injuries are one of the leading safety hazards for wildland firefighters. In this unpredictable setting, you will; have to watch out for falling objects such as trees and rolling rocks. To reduce the risk of head injury, always wear a durable firefighter helmet or hard hat (non-metal).
The best helmet or hard hat for wildland firefighters should be lightweight and durable. Structural firefighting helmets differ from non-structural ones in that they are usually heavier. No matter what helmet you're wearing, you should always wear the chin strap to ensure it's properly secured.
For nighttime operations, an attachable headlamp is necessary to keep your hands free. New helmets may have built-in eye protection and attachable headlamps. Bring along spare batteries to keep your tools working long into the night without interruption.
Masks and Shrouds
Smoke, heat, burning embers, and other debris can make breathing hard and cause short- and long-term lung problems. Shrouds and masks offer the right protection against smoke inhalation and let you breathe easily.
Wildland masks and shrouds should be made out of a fire-resistant material and be able to protect the face, neck, and head from the heat. In some cases, particulate filters/disposable masks can prevent you from breathing harmful airborne particles.
A hood, in particular, can be pulled over your face and provide all-over protection. A shroud, in comparison, is attached to the helmet. Since this face, neck, and head protection can reduce your natural ability to remain cool, you should remove them when resting or "mopping up."
Flame-Resistant Shirt, Pants, Jackets, and Overalls
Fire-resistant apparel is critical on the fire line. Wearing the right gear can make all the difference in how much heat you retain and how cool your body remains. Select clothing that meets the NFPA 1977 standards. It should be durable, fire-resistant, and not be made from synthetic materials, which can melt easily in this environment.
Proper maintenance and cleaning of apparel are also part of wildland firefighting safety. Ensure your clothes are free from oil and gas stains and have no holes or tears before going out on an assignment.
Fire-resistant pants should be cuffless and loose-fitting to allow freedom of movement and prevent embers from getting caught in the folds of the fabric. Wear your pants over your boots to protect yourself against embers.
Since firefighters need to get on their knees, they need pants with reinforced knee sections to prevent twigs or rocks from puncturing the pants. Large cargo pockets can be more accessible than regular pockets because they are better positioned and can store more items.
Tuck in your long-sleeved, fire-resistant shirt and ensure they are secured at the wrists and collar. If possible, wear a wide leather belt or a nylon one. Nylon belts can work well and don't show wear and tear like leather belts.
Although two layers of fire-resistant clothing provide increased thermal protection (about 30%) than a single layer of PPE, two layers may restrict mobility and put firefighters closer in harm's way during fire suppression tactics. Flame-resistant gear may not melt but can transfer heat to the skin. For some, however, a second layer can offer that extra protection.
Many wildland firefighters use their undergarments as their second layer. Merino wool socks are preferred because they decrease chafing and are great at wicking moisture away, making your feet feel cooler.
Nomex long underwear featuring an elastic waist, soft-knit band at ankles, and a fly front are an excellent option. Fire-resistant undergarments that cover the entire body may seem like they will be too hot, but they can have moisture-wicking abilities that keep your body cool.
Today's wildland firefighters wear bright yellow shirts for their safety. Studies have proven that yellow is the most visible in dark and smoky environments. Modern brush shirts are designed with flame-resistant material and high visibility colors. Shirts are designed to burn and form a char, protecting the skin when the clothing is exposed to flames. Avoid rolling up your shirtsleeves on the fire line and keep them buttoned to prevent exposing body parts.
Wildland firefighting apparel must be loose-fitting. Tight-fitting clothing can increase the risk of burns from radiant heat and damage from heat stress and restricts a firefighter's mobility. The air gap in loose-fitting clothing can increase ventilation with movement. The air layer provides greater thermal protection and decreases the heat stress load.
If you need to wear a jacket on the fire line, you should wear a flame-resistant brush jacket, not one made from synthetic materials.
Jumpsuits and coveralls can be a good PPE option for volunteers and departments that don't regularly handle wildfires. This PPE can quickly be put on over regular clothing or station uniforms.
Eye Protection
When you are out on the fire line, your eyes are vulnerable to damage from heat, smoke, dust, flames, and other debris. Eye protection does not just keep your eye health in check but allows you to see clearly and get the job done.
Safety glasses and goggles must be worn at all times while on duty. In some cases, tinted glasses can block out glares due to excess light. Most importantly, eyewear should be durable and meet the NFPA 1977 Standard.
If wearing goggles, ensure they fit correctly and can fit your eyeglasses if needed. No matter what type of eye protection you use, keep them maintained, cleaned, and ready for use at all times.
Fire Shelter and Packs
Fire shelters can be life-saving safety devices that can reflect radiant heat and provide you with a volume of breathable air. They are used as a last resort if you are trapped by wildfires. However, firefighters should not feel free to take more risks because they have a fire shelter on hand. Firefighters should always try to escape first if it is safe enough before waiting until you absolutely have to deploy the fire shelter.
Practice deploying your shelter, removing it from your pack while moving, and deploying it while on the ground to ensure you can perform under pressure when you have to use it. If you need to set up your shelter, select a site free from flammable vegetation and rocks underneath.
Ensure you secure your shelter with your hands, feet, legs, and elbows while laying on your stomach. Laying closer to the ground allows you to breathe the cooler air. Inside, it may feel like you're in a dry sauna. Remember to breathe through your mouth and remain calm.
Packs are another handy tool to carry along. They can carry all your essentials, including your fire shelter, water, headlamp/flashlight, snacks, sunscreen, map, compass, rescue gear, or anything else you need to do your work.
Food and Water
Wildland firefighters must bring all their food and water when on assignment. If you are out for days or weeks, you must consider how much food you need to bring. Firefighters need 40 grams of carbs each hour during work for better work output, blood glucose, and immune function. An energy bar can have 25 grams and 1 cup of a sports drink can have 15 grams, totaling 40 grams. Bring at least two full water bottles, granola or protein bars, jerky, dried fruit, nuts, peanut butter, and canned items that don't need to be heated.
Safety and Medical Gear
Safety gear is designed to protect against fire and smoke, but other safety supplies can keep firefighters in good shape. Consider bringing along the following safety and medical gear in your pack:
Utility knife
Sunscreen
Bug spray
Parachute cord
Small first aid kit
Over-the-counter medications for allergies, cold, or headaches
First aid kits can include povidone-iodine swabs, gauze pads, non-stick pads, bandages, butterfly closures, elastic bandages, non-latex gloves, towelettes, aspirins, mouth-to-mouth barrier, and a biohazard bag.
Overnight Gear
For longer assignments lasting days or weeks, you may need to bring in extra items such additional clothes in your red bag. Bring along these critical tools and supplies for an overnight assignment:
Tent
Alarm clock
Inflatable sleeping pad
Sleeping bag
Camping stove
Toiletry bag with toiletries
Flip-flops
Instant coffee
Can opener
Fireproof briefcase for important documents
Cash
Cell phone charger
Waterproof laundry bag
Wristwatch
What Else Do Wildland Firefighters Need?
When working in wildland environments, you need to bring everything you may think you need. Here are some other items you may need to bring along:
Flashlight
Flares/fusees
Red card
Orange flagging strips and electrical tape
Headlamp
Canteen with holder
Notepad and pen
Compass
GPS
Extra batteries
Toilet paper
Rain gear
Matches in a plastic bag
Camera
Driver's license
Lip balm
Portable radio
Extra socks and laces
Cleaning Wildland Fire Gear
Wildland firefighting apparel can become contaminated and pose a danger to firefighters, especially if they wear the same clothing without washing for several days. Toxins can be absorbed into the skin and body. Flammable chemicals must be promptly removed and cleaned.
Industrial laundering services are preferred over washing PPE at home since these services are experienced in cleaning wildland PPE. However, you may not have a local laundering service that specializes in wildland PPE. If washing PPE at home, use a gear cleaner like CitroSqueeze to remove carbon from clothing.
In addition to adequately cleaning all wildland PPE, you must look for any holes or tears and make repairs before you have to use the wildland fire gear again. When the gear is too worn or the contaminants cannot be removed, it is time to replace your wildland fire gear.
Shop for Wildland Firefighting Boots at Drew's Boots
Established in 1918, Drew's Boots has a wide selection of men's and women's
wildland firefighting boots
to keep your feet protected and comfortable throughout the job. Our durable and comfy boots meet or exceed the NFPA 1977 Standard, providing you with PPE that can last for many years to come. Shop Drew's Boots online today!