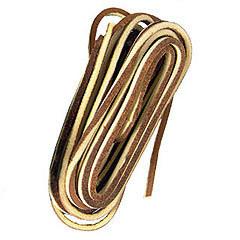 Our Genuine Leather Boot Laces, the perfect fusion of durability, style, and functionality to elevate your boot game. Crafted from premium quality leather, these laces are designed to withstand the rigors of daily wear while adding a touch of style to your favorite boots.
The rich, supple leather will stand the test of time - a favorite with Wildland fire fighters, welders and lifestyle customers.
These laces are built to endure. Whether your trekking through the urban jungle, navigating rough terrain, or on the fire line our leather boot laces are up to the challenge. 
Suggested lace length:
8 inch boot = 72"
10 inch boot = 96" 
12 inch boot = 108"
Note: ADD 12 inches if you have a lace to toe model or like to wrap laces around your boot uppers.
**PRO TIP** 
Get longer laces and trim to fit to your preference. Remove your old boot laces, align them with your new leather laces, and use a sharp knife or scissors to cut off the access and lace up your boots!