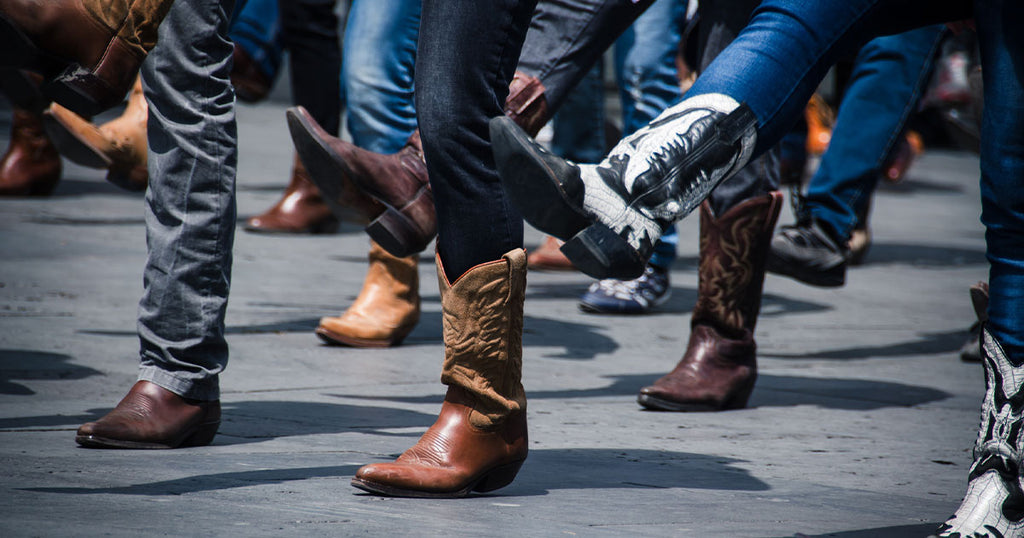 When you think of cowboys, you probably imagine leather chaps, horses, and classic cowboy boots. But not everyone needs classic, old-school cowboy boots with a pointed toe.
What if you have a lot of activities to do, like rounding up cattle in the pasture or riding horses at the ranch? You'll need something more agile and flexible.
Maybe your job or lifestyle requires a more formal personality and a more elegant look, say in a boardroom meeting with corporate executives or for a dinner date with your partner.
Choosing the right cowboy boot shape doesn't have to be complicated. In this cowboy boot toe shape guide, we give you an overview of the most popular toe shapes to help you find the right ones for your cowboy boot wardrobe.
How Cowboy Boot Toe Shapes Impact Fit
Generally, boot manufacturers provide enough room for your feet and toes, even in narrower pointed shoes. It is possible to find pointed-toe boots and variations of them if you have wider feet, but not always. There's usually no need to order a size bigger to make room.
When choosing between cowboy boot shapes and styles, one of the most important factors to consider is comfort and fit. Cowboy boots should be snug and have enough room for toes to wiggle.
Classic/Western Toe Cowboy Boots
For the traditional Western look, a pair of classic-toe cowboy boots do the trick. These rugged and stylish boots feature a slightly pointed toe that tapers at the end. The narrow style lets you quickly get your feet through stirrups and keep them there with the relatively high heel.
The classic cowboy boot is similar to another popular shape, the pointed toe, except the former has a shorter point at the boot's toe box. Overall, the classic toe is a versatile boot shape that can handle almost any type of ranch work.
Pros:
Suitable for walking, riding, and casual wear
Provides a classic look and style
Round Toe Cowboy Boots
The round-toe cowboy boot is the most common type of cowboy boot, featuring a lightly rounded toe without the typical taper, giving you extra room to spread your toes compared to a pointed-toe boot.
If you want something less aggressive than the pointed toe and more graceful than the square toe, this is your best bet. Although it's ideal for short riding trips, they may not stand up to longer excursions.
Pros:
Good for walking and short horseback rides
Suitable for casual and formal occasions
Comfortable enough for hours of wear
Plenty of room for feet to spread
Few pressure points on the feet
Can make feet look smaller
Pointed Toe Cowboy Boots
Popularized in the 1940s, the pointed-toe cowboy boots are the ideal shape for horseback riding or formal occasions. Pointed toes can quickly go in and out of stirrups. A pointed-toe boot has a long and sharp point. Compared to a western toe boot, these toes are longer.
No matter your foot width, you can find a pointed-toe cowboy boot that leaves enough room for your toes.
Pros:
Ideal for horseback riding
Works on casual and formal occasions
Can make feet appear longer
Snip Toe Cowboy Boots
After the hard work's done and it's time to celebrate, slide on a pair of snip-toe cowboy boots designed for dressy ensembles. Although you can complete many tasks around the farm and ride horses with these, they are more designed to show off and wear out on the town.
Snip-toe cowboy boots are a type of pointed boot. This shape has a sharper point and a shorter toe box.
Pros:
Ideal for dressy occasions
Suitable for those with small feet
Square Toe Cowboy Boots
Square toe cowboys boots have relatively new toe shapes when compared to the classic western-toe shape. You'll find a range of cowboy boot toe styles within the square toe category, including long and squared-off toes or wide and short square toes.
Pros:
Suitable for walking and riding
Plenty of room for wide feet
Stylish and functional
Roper Toe Cowboy Boots
Designed for roping cattle, roper-toe cowboy boots are similar to round-toe boots but have slightly rounder toe boxes. This is perfect for those with wide feet. Roper toe boots are versatile for any job on the farm, from walking long distances to horseback riding.
Pros:
Extra room in the toe box for wide feet
Good for walking and riding
Broad-Square Toe Cowboy Boots
Similar to a square-toe cowboy boot, broad-square boots have a slightly bigger toe box, perfect for those with wide feet. If a square-toe boot isn't big enough for you, a broad-square boot might be. These versatile boots work well on and off the farm.
Pros:
Good for casual and formal occasions
Provide all-day comfort and support
Room for insoles and inserts
Cutter Toe Cowboy Boots
A hybrid between a pointed and square-toe boot, a cutter-toe cowboy boot has a narrower square-toe box. It gives you more room to move around than a pointed toe but is also narrow enough to easily go in and out of stirrups. It's an excellent choice for work and play.
Pros:
Extra toe box space
Suitable for riding, farm work, and casual events
Factors to Consider When Buying Cowboy Boots
When shopping for new or replacement cowboy boots, the best way to find the perfect fit and boot shape is to try them out in person in the evening because that's when your feet are the biggest. They tend to swell as the day wears on.
We also recommend trying them out at the store while wearing the type of socks you plan to wear with them every day. Ideally, your toes should be about one inch or a finger's width away from the end of the toe box.
Best Cowboy Boot Shapes for Wide Feet
If you have wide feet, this can be a problem when trying to find cowboy boots that fit well. The best way to choose your boot is to go into the store and try on several pairs of boots. This will give you an idea of what feels best on your feet and allow you to see how they look in person.
If you have wide feet, you'll usually want to look for a boot with a wider toe box. This will provide more room for your toes and prevent them from being squished together when you wear your new boots. Generally, if your feet are wide, round, or square-toe boots are best suited for your needs.
When shopping for wide-foot boots, you want to focus on the letters next to the width. Shoe widths are measured from A to E, with E being the widest. Men can find wide boot widths in B, D, E, and EE boots, while women's wide boot sizes are usually A, B, and C.
Which Cowboy Boot Toe Shape Is Right for You?
Cowboy boots are a staple in any man's wardrobe. Whether you're looking for a pair of classic cowboy boots or something more modern, there's a style for everyone. Ultimately, your boots should be comfortable, durable, and stylish.
The right type of boots depends on your foot shape. Do you need extra space in the toe box? Go with round or square shoes. Are you looking for boots that can transition from horseback to tackle ranch work? Try round or roper boots.
Shop Cowboy Boots for the Whole Family at Drew's Boots
There's a reason why cowboy boots are such a classic. The right pair will say it all in the arena, on the dance floor, or anywhere else you may need to make a statement in style. So get yourself out there and start shopping for cowboy boots at Drew's Boots!