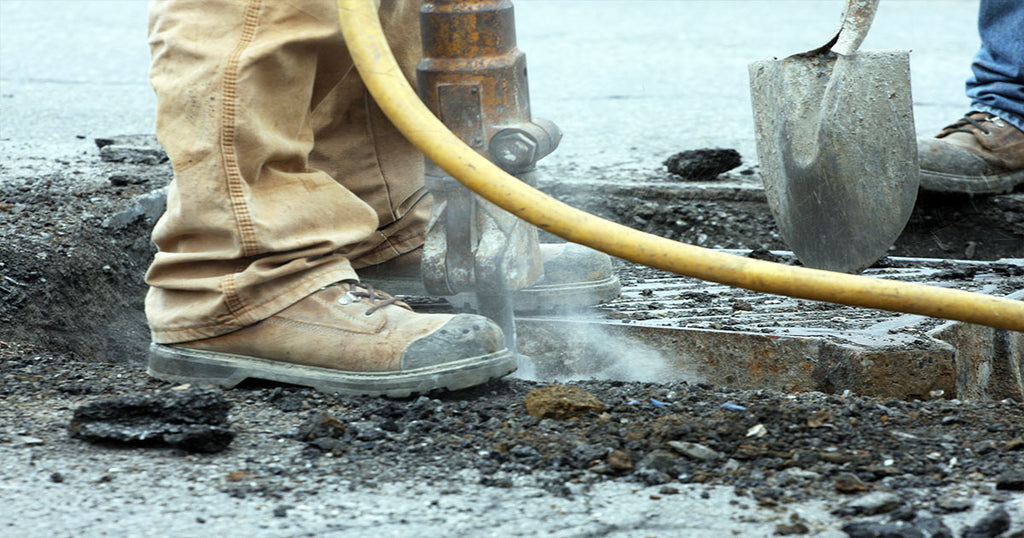 Work boots are crucial investments in your comfort and work performance. Although many people tend to focus on the quality of the insoles and outsoles of a boot, it's also vital to consider midsoles and half-slips, which provide boots with stability and cushioning.
We've been getting a lot of questions about these shock-absorbing components, the difference between midsoles and half slips, and which one works best. In this guide, we'll cover the function of midsoles and half slips, different types of materials, and which one is best for you.
What Is a Midsole?
Midsoles are the unsung heroes of the classic work boot. Most people are familiar with the insole and outsole and take care to keep them in good shape. Midsoles are the shock-absorbing layer between the outsole and the insole.
Most boot owners can get by with a single midsole in their boots. One leather midsole is enough to provide sufficient protection, comfort, and flexibility for most tough jobs. However, sometimes one midsole isn't enough.
In some boot models, you can add a double midsole for extra cushion and durability. Double midsoles are essentially two midsoles stacked together. You usually won't find a single extra-thick midsole, double the thickness of a traditional midsole.
If one midsole is good, then would two be even better? Double midsoles only are useful in some cases. Adding a double midsole to your boot can increase its stiffness and weight but can be a good option if you:
Are 300 pounds or heavier
Work a shovel
Climb poles
At Drew's Boots, we're proud to offer sturdy leather midsoles and leather shanks that provide greater durability and support than plastic or rubber midsoles from the competition. These materials can wear down faster and won't mold to your feet.
A Quick Guide on Safety Work Boot Structure
All components of a work boot come together to protect your feet from common dangers on the work site and keep your feet from aching from long hours on your feet. To find the best work boots for you, it's important to understand the basic anatomy of a work boot.
Here are the basic components of the classic work boot:
Upper: The upper is the material covering the toes, top, back heel, and side of the foot and is attached to the sole. Usually made of leather, the upper can be made from one or several stitched pieces, including the tongue, vamp, quarter, and lining.
Insole: The insole is a layer of padding or leather found inside the boot where your feet lay on. An insole provides you with comfort and some have arch support as well.
Safety toe cap: Some boots options feature a safety toe cap in the front part of the foot to protect the toes from compression. Safety toe caps are usually made of steel or composite materials.
Shank: The shank can be found between the outsole and insole under the foot's arch. It adds extra support and stability to work boots and can be made of steel, kevlar, plastic, leather, and fiberglass.
Midsole: The midsole can be found between the footbed (insole) and the outsole. It is used for absorbing shock and adding support and can sometimes be puncture-resistant . It can be made of steel, kevlar, or composite materials.
Outsole: The outsole refers to the bottom part of the shoe that makes contact with the ground. Outsoles can be made of leather, rubber, and other materials. It's designed to provide traction, stability, and protection from the rugged environment.
Midsole Materials
Midsoles provide shock absorption and flexibility to keep you comfortable all day long at work. The best midsole materials are flexible, durable, and comfortable. A high-quality midsole can last for years and mold to your feet with regular wear.
Leather
High-quality work boots use leather materials for their midsole for maximum durability and cushioning, great for tough work sites or rugged terrain. Over time, the leather material will mold to your feet for a better fit.
Steel
Steel midsoles are commonly used and made from a steel roll with sharp edges removed. In Some environments, such as construction sites or recycling plants, a puncture-resistant midsole may be necessary to protect feet against sharp objects.
However, the extra foot protection sacrifices flexibility due to the midsole's more rugged construction than other materials. Steel midsoles may not provide complete sole protection and may just cover the most vulnerable parts of the foot, not the edges.
Rubber
Rubber provides an affordable alternative to high-quality leather construction. It's durable and comfortable, but leather is more comfy and robust. One of the biggest cons of rubber is its inability to mold to your foot shape like leather can over time with regular wear.
Cork
Cork is toward the bottom of the list of midsole materials since it isn't as durable as leather or rubber. Cork midsoles are common in casual boots, including leather and rubber materials for extra support.
For work boots, cork just won't cut it. A cork-based midsole can work in a casual boot for special occasions. Over time, the cork can degrade and clump up, creating small bumps under the insole.
Molded Ethylene-Vinyl Acetate (EVA)
Another popular midsole material is molded EVA (ethylene-vinyl acetate) due to its lightweight properties. EVA is comfortable and resistant to compression, providing support for foot aches and pain. However, this material will degrade and lose structure with regular wear.
Polyurethane (PU)
Polyurethane is more durable than EVA materials. They have more weight and density and won't break down as fast as EVA midsoles.
What Is a Half-Slip?
A half-slip, usually made out of leather, is essentially half of a midsole and just a few millimeters thick, running from the heel of the boot and tapering down through the arch of the boot. Think of it like half of a double midsole, but it provides more flex in the toes than a double midsole.
Why would you need a half-slip? This layer gives you extra support in your arch and heel and more flexibility on the forefoot. It's perfect for utility linemen who work on ladders all day or those who need to squat and kneel regularly. Even if you're not on a ladder for hours, you may benefit from the additional layer of a half slip.
Why You Need a Midsole and a Half Slip
For most work boots, premium midsoles are a must. Midsoles must be resistant enough to stand up to your work conditions and environmental dangers. In some cases, you may need puncture-resistant materials to protect your feet from sharp objects.
High-quality midsoles make all the difference in comfort, shock absorption, and stability. Without one, your foot won't be as supported and can cause discomfort from hours of being on your feet.
Half slips provide some protection and comfort for the back half of the foot while giving you more flexibility in the toes.
Half Slip vs. Midsole: Which One Is for Me?
Finding the correct type of foot and arch support depends on various factors, including your lifestyle, occupation, job responsibilities, and foot support needs.
Most of our custom boots are built with just a single midsole, but you may benefit from a double midsole or a half slip.
Double midsoles are good for those who weigh over 300 pounds, work a shovel, climb poles, or just need that additional level of support throughout the sole.
A half slip can be good for those that need more space to flex the toes, such as linemen.
When to Replace the Midsole
Midsoles are often an overlooked aspect of a work boot, but they provide the support and flexibility needed between the insole and outsole. However, midsoles can break down quicker than other components. You may need a midsole replacement if you are noticing the following:
Less support and cushion when wearing the boots
Lower height when wearing the boots compared to the original height
Compressed outsole
Shop Custom Boots at Drew's Boots
Whether you are searching for your favorite brands or want to create a custom boot from scratch, Drew's Boots can help. Get a boot that fits your specifications and delivers unparalleled comfort and style.