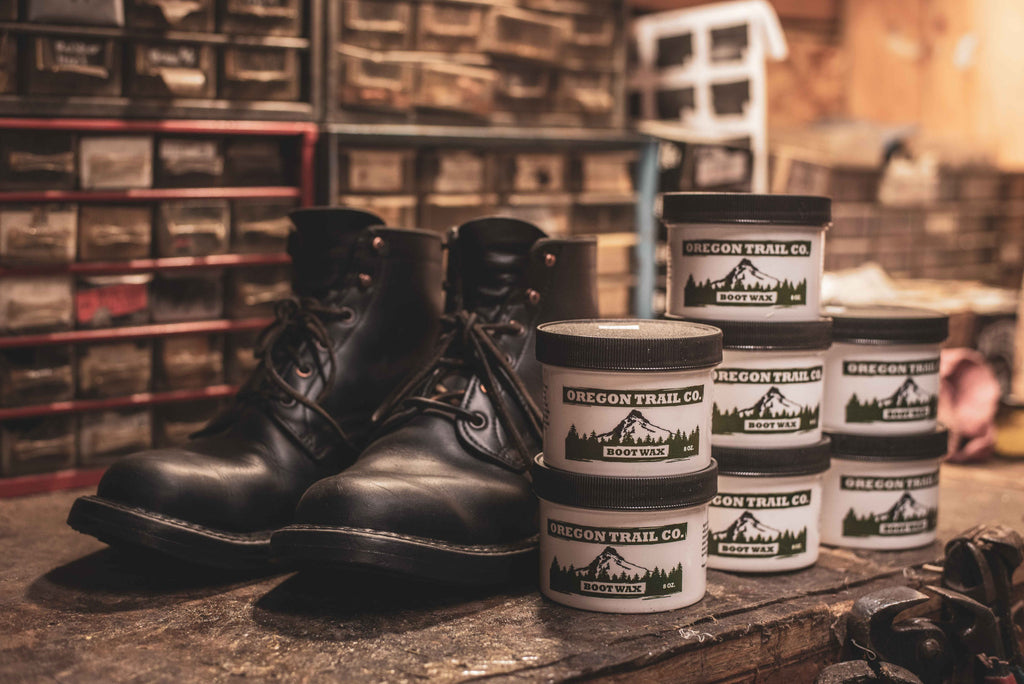 If you've ever noticed that your boot oil or wax has a strong odor there is likely a reason; most are made with harsh chemicals and petroleum distillates or animal fats that can be harmful to the stitching and overtime will ruin the integrity of the leather. Additionally, these strong odors are not conducive to hunting as the unnatural scents can disrupt big game hunting.
In an effort to provide our customers with a product better suited to meet their needs we decided to make it ourselves. Oregon Trail boot wax is made here in our Eugene, Oregon in the back of our store, using a unique and innovative method to melt and dispense the wax. This all-natural product was originally developed for the severe conditions in the Northwest, but is quickly gaining popularity among firefighters, loggers, ranchers, and hunters. Oregon Trail boot wax provides the best protection available, using only natural ingredients with a beeswax base to help restore and preserve the leather, while repelling outside elements. We know your boots are expensive and we want to help you get the most life out of your leather goods.
Oregon Trail wax is offered in 4oz and 8oz sizes. It readily absorbs into any kind of leather, stays absorbed in the leather longer than other treatments, and will not harm glued-on rubber rand or boot stitching. Application is simple and straightforward: apply the wax by hand or with a brush or cloth, allow some time to absorb into the leather, and then wipe off the excess. (No heat is required.) Repeat as needed when the leather becomes discolored or dry areas are observed in the leather. As with any leather protector or oil based product, it will darken the appearance of the leather.
About this product:
• Repels water better
• Restores dry leather to a soft condition and keeps it protected for the future
• Helps prevent premature cracking in flex areas
• Contains no harmful silicone or petroleum
• Is odorless before and after applied (important to those who hunt)
• Applies easily with a clean cloth or dabber brush
• Penetrates deeply into leather
• Will darken the leather